EV6 For Sale at Mid Rivers Kia Dealership

New Electric Car at Napleton's Mid Rivers Kia Dealership
    The new Kia EV6 opens a whole new world of possibilities! It's Kia's newest and incorporates the latest in state-of-the-art technologies to electrify your life. It's powered by lithium-ion batteries that range up to a 77.4 kWh high-density lithium-ion battery with an EPA-estimated range of 310 miles. Available in either rear- or e-AWD powertrains, it's the first-ever Kia electric vehicle design to use the new Electric-Global Modular Platform (E-GMP). 
If you're interested in a FREE test-drive of the Kia EV6, simply submit the form below to get more Kia info and schedule your FREE test-drive.
What is the Kia EV6?
    With the new EV6 electric vehicle, Kia is just getting started! Using an entirely new slate and the e-GMP platform, the brand can now push the envelope in EV design even further. The new Kia EV6 joins other Kia models, including the Kia Stinger, Soul, Telluride, Seltos, Sportage and Carnival, to make up one of the most dynamic vehicle lineups available today. 
    Some have described the EV6 as a high-riding hatchback. Or is it a low-riding SUV? This Kia fits size-wise under its award-winning sibling, the Telluride but utilizes the same wheelbase. But at the end of the day, it's about more than size. The EV6 is also about style. With a sharp, sleek profile, the EV6 offers a glimpse at Kia's future direction. 
Napleton's Mid Rivers Kia Dealer also offers EV6 incentives, so don't miss out on all the great savings!
Get more EV6 Info & Schedule a FREE test-drive
* Indicates a required field
Kia EV6 Explained at Chicago's Auto-Show
   The new EV6 from Kia is a great addition to the Kia Hybrid, Plug-in Hybrid, and Electric Car lineup. With some of the latest EV technology, the EV6 not only looks great but performs even better. Save money and avoid the pump thanks to this Kia EV! The EV6 is a pretty complex electric car, so for your convenience here's a Kia representative at the Chicago Auto-Show explaining some details about Kia's EV6 available at Napleton's Mid Rivers Kia.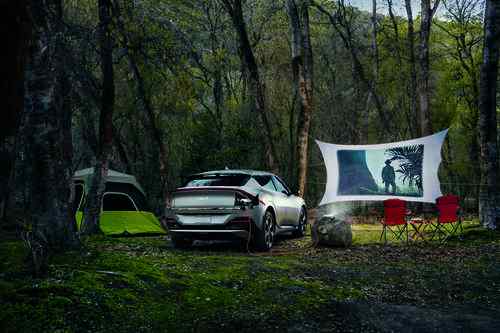 Mid Rivers Kia EV6 Fast 800V Charging
   The new EV6 is a quick-charging vehicle, thanks to the World's first 800-volt multi-charging architecture. This new system allows it to charge up to 80-percent in 18 minutes. That's quick enough to hit the grocery store for a bit of shopping. Soon, your refrigerator and your batteries will both be filled. You'll thank us later.
   In a phrase, the EV6 is a study of efficiency. Rather than starting as a gas-powered vehicle and then replacing the gas engine with an electric motor, the EV6 was designed with efficiency in mind. Kia started with the smallest sized electric motors possible, placed the batteries in the lowest part of the vehicle, and used the lightest interior materials for vehicle efficiency. 
   That's not the only part of EV6's efficiency. The interior is one of the most spacious on the road today. With no drivetrain, exhaust system, or other drag-inducing extras to get in the way, designers were free to use every trick possible to make it a wind-cheater on the outside. Behind that is a cargo area that can hold up to 27.7-cubic feet. Fold those seats forward and that space increases to 53.5-cubic feet.
   The base Kia EV6 offers drivers a choice of several trim levels. There's also a choice of rear or all-wheel drive models. The rear-drive EV6 Wind follows. The all-wheel drive EV6 Wind is next, followed by the EV6 Wind e-AWD Tech Package. Finally, buyers can take advantage of the top-shelf Kia EV6 GT-line for those who think there is never enough power.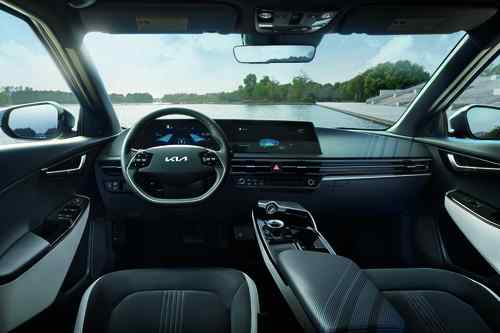 EV6 Powertrain Technology
    The EV6 from Kia can save you money at the pump, while also performing great and offering plenty of comfort. This new electric car is available at Napleton's Mid Rivers Kia and features four electric motor options to power the new EV6. They include:
A single motor-generator powers the "EV6 Light with RWD." Energized by a 58 kWh battery, it makes 167 horsepower with a range of 232 miles. 
There's a single motor-generator in both the "EV6 Wind" and the "EV6 GT-Line, RWD." It's juiced by a high-powered 77.4 kWh battery that brings 225 horsepower. It will take you roughly 310 miles, but of course, your mileage may vary! Incidentally, independent testing has achieved 339 miles on a single charge.
The "EV6 Wind" and "EV6 GT-Line AWD" vehicles each have two electric motor-generators powering them. This drivetrain receives energy from a 77.4 kWh battery and delivers 320 horsepower and an estimated range of 274 miles.
The "EV6 GT AWD" model arrives with dual motor-generators. They receive their energy from a 77.4 kWh battery that makes 576 horsepower and deliver a mileage range of 200 miles.
 If you're looking to test the power of the EV6, don't forget to submit the form above and schedule your FREE EV6 test-drive at Napleton's Kia Dealer of Mid Rivers.
EV6 On Sale at Napleton's Mid Rivers Kia
    There are so many highlights to tell you about Kia's new electric car technology. The new EV6 at
Mid Rivers Kia
is just the beginning for this new Kia lineup of hybrids, plug-in hybrids, and full-on electric cars. If you're looking to save money on rising gas prices, lower your carbon footprint, help the environment, or just drive the stylish new EV6, then Napleton's Mid Rivers Kia is the Kia dealership for you. Find out more about this exciting new EV by
contacting our specialists
at Mid Rivers Kia Dealership and be sure to 
schedule your FREE EV6 test-drive.